JAIF Scholarship Fund (USD)
今すぐお問い合わせください
APPLICATION FOR UNDERGRADUATE
MJIIT offers a full-time 4-year undergraduate programme.
Ready to start your application?

今すぐお問い合わせください
APPLICATION FOR POSTGRADUATE
MJIIT offers a competitive advantage by leveraging on the strength of Malaysian and Japanese educational systems, expertise and technologies for world-class research and development.
Ready to start your application?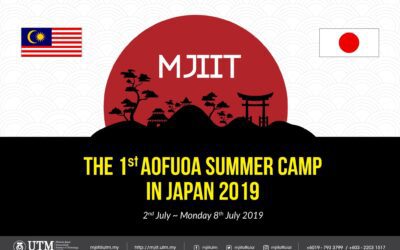 From July 2 to 8, 2019, the first AOFUA summer camp in Japan was hosted by Tokyo City University with the participation of members of "Asia-Oceania Five University Alliance", DLSU/Philippines, ECU/Australia, MJIIT/Malaysia and TCU/Japan, in addition to the staff...
read more
ALL THE REASONS YOU SHOULD COME TO MJIIT

Like Us! and Stay In Touch…