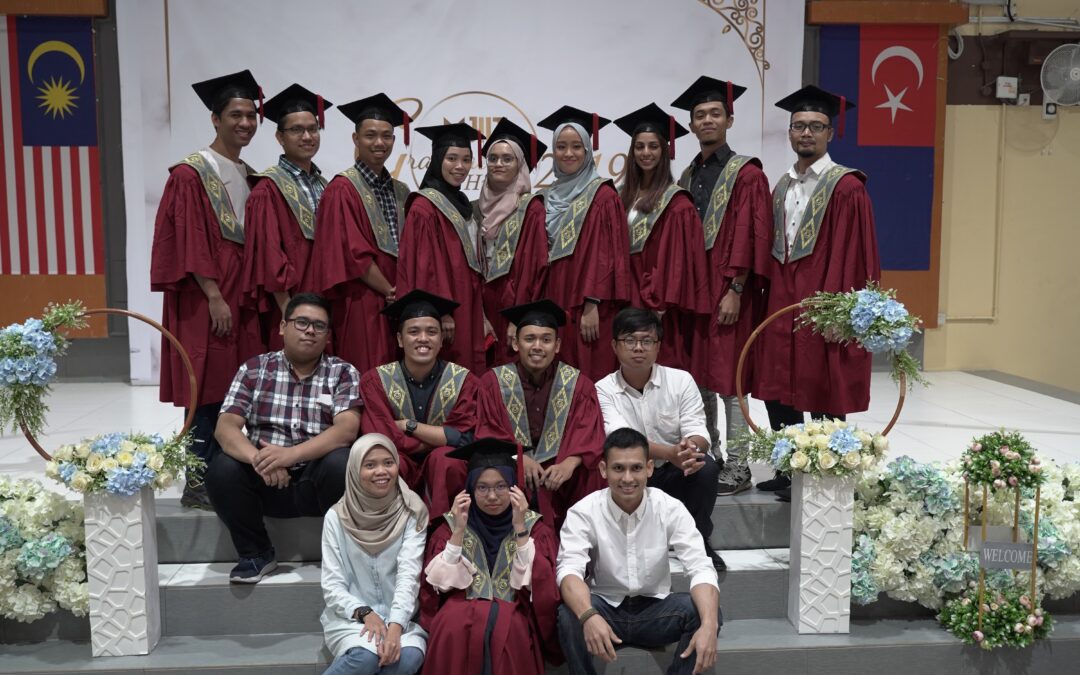 3 November 2019, UTM Skudai – Last week was an entire week of celebrations for MJIIT UTM graduates. Families and friends were together in UTM Johor to congratulate and to share the heartfelt moments.
MJIIT wishes to share these moments in an album and montage (which was aired in the Hi-Tea event) as a memorable token to all who have worked hard and made meaningful sacrifices, through thick and thin, throughout your years in MJIIT UTM.
It is worth noting that in only a few years of establishment, MJIIT UTM has supplied close to 200 graduate human capital to world renowned Japanese companies.
To illustrate, 23 graduates of the 2018 batch alone are now attached to a number of Japanese companies in Japan, i.e. NSK, Nitto-Denko, Sumitomo Electronics, Kumonosu, Meiden-sha, UACJ, Daido-Metal, Kitz, Asahi-Yukizai, Railway Research, Hirakaya-Hyutech, SMK, Eagle Insutry and Shinei. 52 students from the same batch are attached to Japanese companies in Malaysia, 67 are attached to various MNCs around the country, 38 with the public sectors and 25 of the same batch are continuing their studies at a postgraduate level.
This success demonstrates the high marketability of MJIIT graduates and the academic quality of this faculty in producing holistic and competitive graduates to build successful careers after graduation.
One of the factors making MJIIT UTM graduates highly sought by Japanese MNCs is their ability to communicate in both verbal and written Japanese. Via its Japanese Language and Culture Centre (JLCC), MJIIT UTM grooms students in Japanese language and culture, with emphasis on Japanese work values and verbal communication before exposing them to various mobility programs in Japan. One of the informal initiatives of JLCC is the Nihongo Café, where students can talk in person with Japanese guests in Japanese language.
Students are given the opportunity to apply their knowledge on 5S, Kaizen, Monozukiri, Senpai-Kohai, Ningen-Ryoku, Rinkoh sessions and others learnt from their lectures and lab exposures in MJIIT UTM in selected programs in Japan, before they graduate. These special programs encompass paid internships in Japan, research activities with Japanese universities, student exchange programs, joint-supervision with Japanese professors in Japan, double-degree programs, Jukebox programs and collaborative international i-kohza programs in Japan.
The most popular initiative is the Sakura Exchange Program in Science, an opportunity for MJIIT students to be in Japan alongside selected Japanese university partners. Since the establishment of this unique program, hundreds of students have stayed with their Japanese counterparts in Japan for a minimum of 3 weeks to 6 months.
It is hoped that they would transfer what they have learnt in Japan to their local friends and network.