Japanese Oriented Engineering Education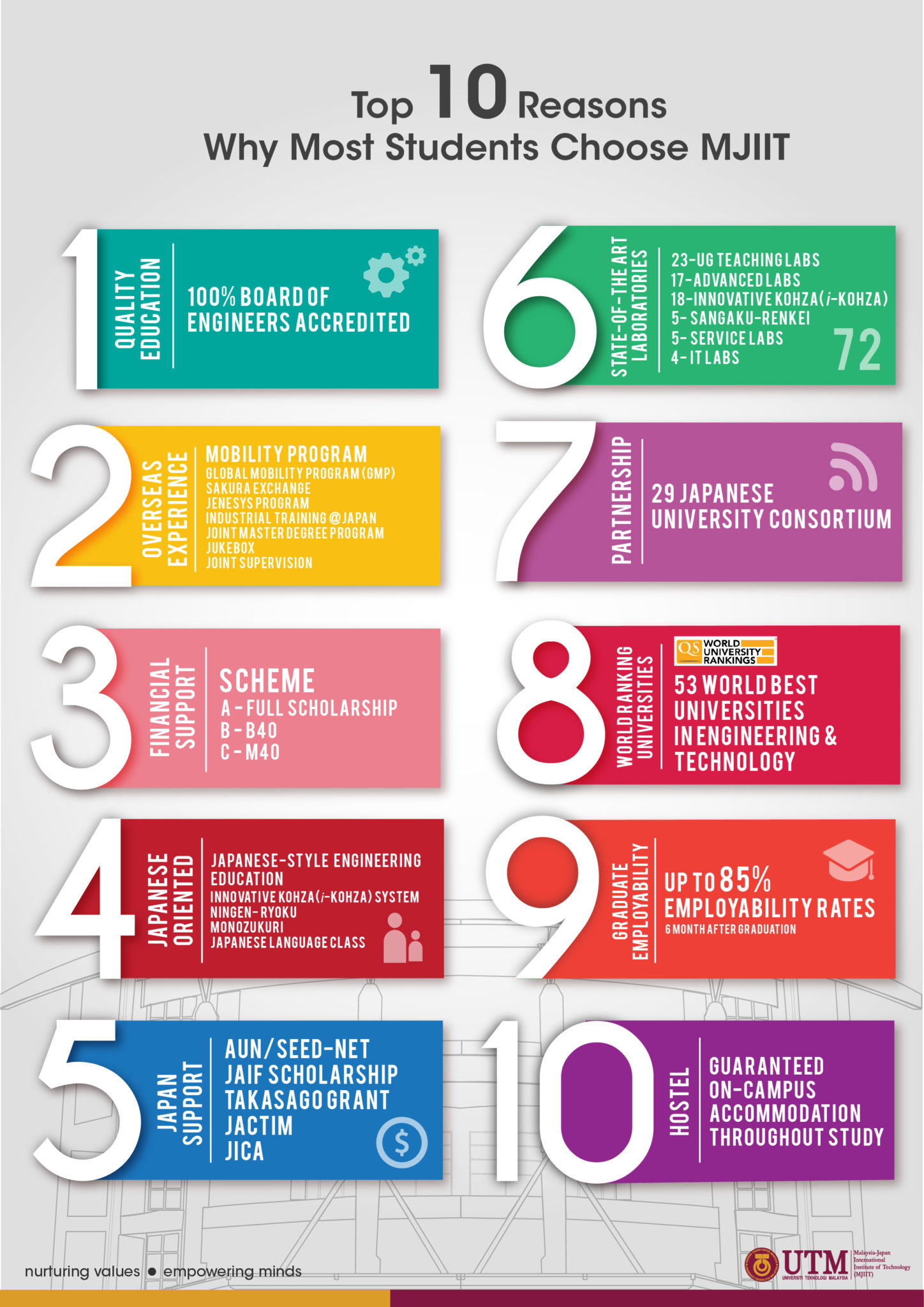 Provides a holistic approach in its human development (Ningen-Ryoku) programmes to develop confidence, decisiveness, independence and maturity in the graduates.  These characteristics prevail through emphasis on skills in communication, problem solving, responsibility and ethics in the programme curriculum.
Utilizes the K.E.S. (Knowledge-Experience and Self -study) pedagogy concept of teaching and learning approach which focuses on more class contact in lower years, learning through experience and self study in later years.
The unique Senpai-Kohai relationship or mentor-mentee concept is emphasized from the moment the students step into MJIIT until they graduate.  The implementation of Kohza (research) laboratory system which promotes strong collaborative work by senior and junior researchers as well as continuous guidance from the professors in R&D project strengthens the concept. All students will be part of the Kohza system.
The successful Japanese concept of 5S and Kaizen will be part of the learning concept of MJIIT, aimed to develop the skills of the Japanese which are envied by many, such as team working, responsibility, and resilience.
MJIIT students can pursue Japanese-style of education in English at affordable cost
Selected undergraduate students will have the opportunities to do part of their industrial training or attend some courses in Japan.
Postgraduate students will have opportunities for attachment in research laboratories in Japan from three months to one year.
Accessibility to sophisticated equipmentsin foreign partner university.
Strong Japanese-based industrial-linkage gives opportunities for industrial experience and allows students to use their work experience as part of their research.
Strong linkages with academics and researchers in Japan allow students to be jointly supervised through joint research programmes.
Twenty-three (23) Japanese universities and five Japanese government agencies form consortium in support of MJIIT.
Twenty percent (20 %) are international academics staff including the Japanese academics.
Scholarships are available for excellent students.
Renown Centre of Excellence (COE) appointed as 'Associate Kohzas' in MJIIT