With intensifying urbanization and industrial revolution moving at rapid speed, our environment is constantly exposed to untreated wastewater discharged from various sources. Increasing demand for palm oil has raised concerns about the environmental impacts of wastewater streams.
The levels of pollution generated from the palm oil industry have been escalating following its rapid expansion in Malaysia.
Without adequate treatment, surface water pollution becomes an issue where there is either insufficient or improper disposal of solid and liquid wastes into receiving rivers or lakes.
Despite the continuous expansion of wastewater treatment technologies, researchers are still finding it challenging to maintain the efficiency of the existing methods, many of which are relying on conventional activated sludge model.
Dr. Norhayati's research focuses on aerobic granular sludge, which are seeds made of special microorganisms. These microorganisms break down the organic compounds in wastewater into much simpler compounds, allowing the treated wastewater to be released safely into receiving water bodies.
Aside from the positive ramifications on the environment, her method is a cost-effective treatment reducing operational and maintenance costs.
It is no surprise that Dr. Norhayati chose wastewater treatment as her research subject.
Since 2002, she's been actively involved in the International Water Association (IWA), networking and meeting water and wastewater experts from around the world as Board of Director and Fellow.
"I was motivated by IWA's notion to inspiring change together and contribute more to the sector. In fact, IWA has been instrumental in shaping my water career until today," she says.
She has been an active IWA member since her student days back in 2002.
Dr Norhayati was instrumental in the development and regional implementation of IWA Young Water Professional program of activities that aim to empower young professionals and develop the global awareness around water needs in term of skills and actions.
She is the recipient of the prestigious IWA Young Water Professional Award 2012 in Busan, Korea. Her commitment has been recognised by her election as the Chair of the IWA Young Water Professional Steering Committee and then being nominated by the general assembly of the IWA to be a member of the Board of Director of the International Water Association (IWA).
HER SCIENCE STORY
"I was actually interested in philosophy, positive psychology and human behavior when I was starting out as a student. I never made it to any of the degree programmes for them though. However, the combination of interest in environmental psychology and engineering helps me to better communicate science to society," shares Dr. Norhayati.
Dr. Norhayati went on to excel in her environmental sciences courses, so much so she eventually became a senior lecturer for Environmental Engineering and completed her Masters project on anaerobic treatment for wastewater containing antibiotics.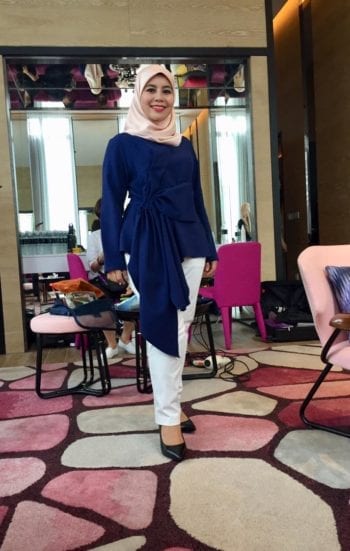 Having a supportive husband, Assoc Professor Dr Ali Yuzir who is a former fellow academia at the Faculty of Civil Engineering, allowed Dr Norhayati to pursue her PhD. "He shared the responsibilities of taking charge of our young boys during the busy years and most importantly, for letting me explore science wherever and whenever I wanted," says Dr. Norhayati.
Her collaborative work between Universiti Teknologi Malaysia (UTM) and Newcastle University, UK was presented at the House of Commons in London, during the eminent SET for Britain Engineering Exhibition in 2011.
In 2017, Dr Norhayati spent four months at the University of Michigan, Ann Arbor USA for her US-ASEAN Fulbright Visiting Scholar Initiative. Her scholarly and professional research experiences in the United States focuses on Malaysia and ASEAN issues on traversing responsible technologies for methane strategy.
Dr Norhayati was elected among the Top 50 Most Impactful Leaders in Water & Water Management (A Global Listing) in February 2018.
RECOGNISING WOMEN SCIENTISTS AND INSPIRING A NEW GENERATION
"It is exhilarating to uphold such a prestigious research brand and position endorsed by both L'Oréal and UNESCO at national and international levels," says Dr. Norhayati.
"The award gives visibility to outstanding women scientists globally. They become role models and an impelling strength to girls and young women to consider a career in science. It also provides women scientists the opportunity to network and foster partnership with others working in the same field."
Her message to the next generation of women scientists? "Science is fierce and uplifting, and it is no longer a road less travelled by women. In science, I learned about the inevitable disappointments but found triumphs and discoveries."
UTM is honored to see Dr. Norhayati as the winner of the L'Oreál-UNESCO For Women in Science Fellowship 2018 as this would give encouragement to many of our members, fighting for developing awareness, actions and results on the sustainable water challenges.
By :
Associate Professor Dr. Norhayati Abdullah
Malaysia-Japan International Institute of Technology (MJIIT)
Universiti Teknologi Malaysia