CEP-SEEN POSTGRADUATE SCHOLARSHIP
Collaborative Education Program for Sustainable Environmental Engineering Network (CEP-SEEN), led by MJIIT, together with university partners namely University of Tsukuba (UT), Japan, Institut Teknologi Sepuluh Nopember (ITS), Indonesia. offers a joint educational program for doctoral and master's degree in Environmental Engineering. The main study period will take place at MJIIT, UTM Kuala Lumpur, Malaysia with a short-term study in Japan and Indonesia. The consortium aims to produce knowledgeable human capital towards the advancement and development of state-of-the-art technologies and processes while safeguarding the environment.
Minimum Criteria for Applicants:
Applicants must be from ASEAN countries excluding Malaysia, Brunei and Singapore

Not awarded with any other AUN/SEED-Net scholarships at the time of student recruitment

Field of study must be in Environmental Engineering for Master of Philosophy and PhD programs

For TOEFL, the minimum scores of 525 or TOEFL IBT 69

For IELTS, the minimum scores of 5.5
Document Required for Applicants:
Statement of purpose (one page)

Curriculum vitae (CV) or resume

Research proposal

Official academic transcripts (both Bachelor's and Master's degree)

Certificate of English proficiency (TOEFL or IELTS)

Two (2) recommendation letters (at least one recommendation letter must come from academic advisor/instructor)

Abstracts of Bachelor's and Master's thesis

Copy of the applicant's passport

Research paper, publication or certificates (if any)

Recent photograph (1 x 1.5 inches size as jpeg format)
What you get:
Monthly allowance USD650 

Medical and life insurance and English language support

Tuition fees waiver

Travelling allowance

Research support

Conference travel support
Download the application form HERE and referee form 

HERE
Apply for the Admission to UTM

HERE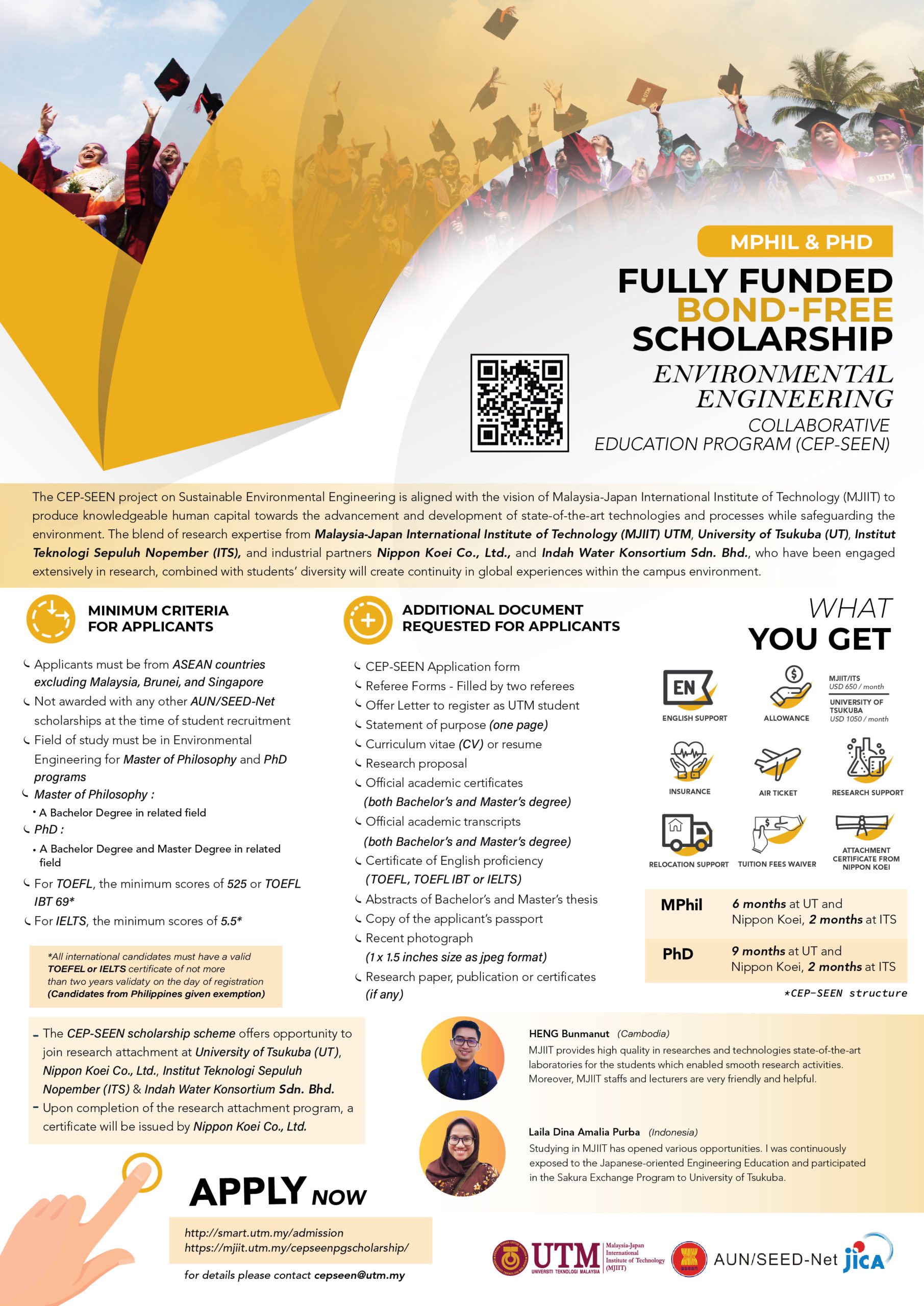 I first enrolled at  MJIIT in 2017 for my Master of Philosopy in Environmental Engineering. I am grateful to have received the MJIIT incentive for excellent scheme throughout my study period. Studying in MJIIT has opened various opportunities. As a student, I was continuously exposed to the Japanese-oriented Engineering Education. I participated  in the Sakura Exchange Program to University of Tsukuba as well as attending conferences in Malaysia and overseas. I was given the amazing opportunity to attend a research internship program in Polytechnique Montreal, Canada for four months under the auspices of the Canada-ASEAN SEED scholarship. It has been a remarkable journey with MJIIT and I cannot wait to start my PhD journey as the CEP/SEEN (AUN/SEED-Net) scholar.
My name is HENG Bunmanut from Cambodia. I am one of the recipients of the prominent AUN/Seed-Net Scholarship to pursue my Master of Philosophy in Environmental Engineering at Malaysia-Japan International Institute of Technology (MJIIT),  Universiti Teknologi Malaysia (UTM) Kuala Lumpur. As an international student of UTM, I personally believe that the scholarship opportunity provided by UTM under the auspices of AUN/Seed-Net has helped me in many ways towards the completion of my research study.  Being associated with AUN/Seed-Net as a scholar is truly a privilege for me. Furthermore, MJIIT also provides high quality in researches and technologies. MJIIT provides an array of specialized state-of-the-art laboratories for the students which enabled smooth research activities. Moreover, MJIIT staffs and lecturers are very friendly and helpful. I consider the AUN/Seed-Net as the best scholarship which allows me to enroll in a Japanese-oriented research program at MJIIT. As an international student, I made a lot of new friends in UTM. It feels so great to be spending time and having fun together during my stay in Malaysia. I now may say that UTM is my home.
 The faculty also has different laboratories with modern technologies for student to conduct their research and practice for our studies. In my personal understanding, Not only studies and researches, I also had a lot of fun during my stays in Malaysia.